COVID-19 UPDATE:
Following the Government's Tier 4 announcement, we're sad to have to say once again that all of our charity shops are now shut until further notice. We're unable to accept any shop donations or collection requests at this time too, but please do hang on to your donations until restrictions are lifted, we'll be needing your support more than ever when we're able to open our doors.
Donating to Our Shops
To donate your unwanted items you can:
Take items to one of our charity shops during the current opening hours as above.
Arrange a collection by contacting us by email or on 01204 663 063.
Call to arrange your free home collection on 01204 663063 - please leave a voicemail and we will call you back if we are unable to answer!
We are always in need of good quality donations in all of our shops - clothing, home & kitchenware, jewellery, bric-a-brac, childrens' toys, nursery & baby items, shoes, bags, DVDs, CDs, books, furniture, electricals and fitness & leisure equipment. So please remember us when you are having a clear out by donating your unwanted items!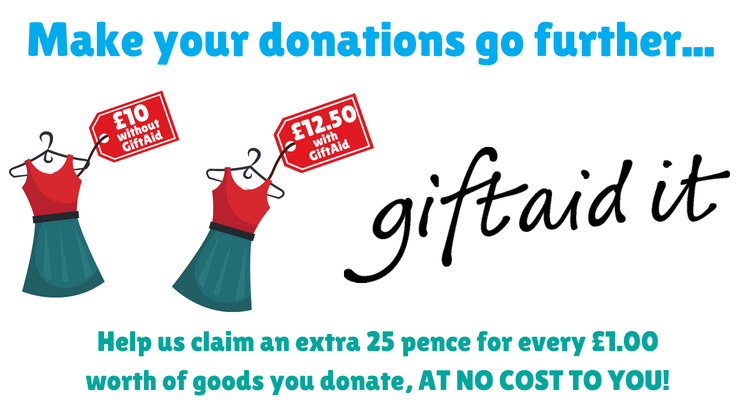 Did you know that if you are a UK tax payer, we can claim an extra 25% back from the government on your donations?!
Sign up as a Gift Aid donor and each time you donate any clothing or goods, we can generate an extra 25% more income once they sell! To become a Gift Aid donor, ask in any of our charity shops or speak to our collection team and someone will be more than happy to help! 
Information about donations
We are very grateful to all those who continue to donate to our shops but due to the restrictions imposed on waste and our duty of care in ensuring that waste is removed safely, we ask you to please make sure that all your donations of non-clothing items are in good condition, not broken and meet with Trading Standards compliance.
We are also unable to accept any soft-furnishing donations which do not have the original Fire Safety label attached (see below) such as sofas, armchairs, mattresses etc. as we are unable to re-sell these items.