COVID-19 UPDATE:
Following the latest government announcements, all of our charity shops (with the exception of our Town Centre Shop) re-opened on Monday 12th April.
We have also resumed our free home collections. You can book a collection here using our online form or by contacting our retail team by calling 01204 663063 or emailing shopsco-ordinator@boltonhospice.org
Here are our shops donation days as of Monday 24th May. 
DONATION DAYS
Astley Bridge
Accepting donations at the shops back door only, Monday - Friday 10am - 3pm and Saturday 10am - 3pm
Bury Road
Not currently accepting donations.
Chorley Old Road
Accepting donations at the rear of the store Monday - Saturday 10am - 3pm
Horwich
Accepting donations at the rear of the store Monday - Saturday 10am - 3pm
Farnworth
Not currently accepting donations.
Furniture Plus
Accepting donations Monday - Saturday 10am - 3pm - we will not be accepting donations on Sunday.
If you wish to deliver large items of furniture to our Furniture Plus Store, this can be pre-arranged by phoning us on 01204 663063
Little Lever
Accepting donations at the rear of the store Monday - Saturday 10am - 3pm
Tonge Moor Road
Accepting donations at the front of store Monday - Saturday 10am - 3pm
Westhoughton
Accepting donations at the front of store Monday - Saturday 10am - 3pm
Covid-19 UPDATE - Thank you for your kind donations to our shops, to help us manage our shops around Covid updates, we ask that all donations to our shops are in good clean saleable condition.  Our shops with changing rooms are currently closed. 
Should we receive large volume of donations on a particular day we may have to refuse your donation sooner than 3pm.  This would only be if we pose a Health & Safety Risk to our volunteers and we apologise should this happen.
If you have that special item that you wish to donate and feel will raise vital funds for Bolton Hospice, please label the item 'eBay' and drop off at our Tonge Moor Road Shop. Alternatively please call our Retail team on 01204 663063 to arrange for the item to be collected.
Unfortunately due to low customer demand we are unable to accept DVDs and CDs at this current time. By accepting these items we would incur a cost to the hospice. Thank you for your co-operation and support. If you would like to enquire further regarding what our shops are able to accept as donations please call 01204 663063.
Let's get shopping, we can't wait to see you all!
Our Retail Team now have an exciting new Facebook group which you can join here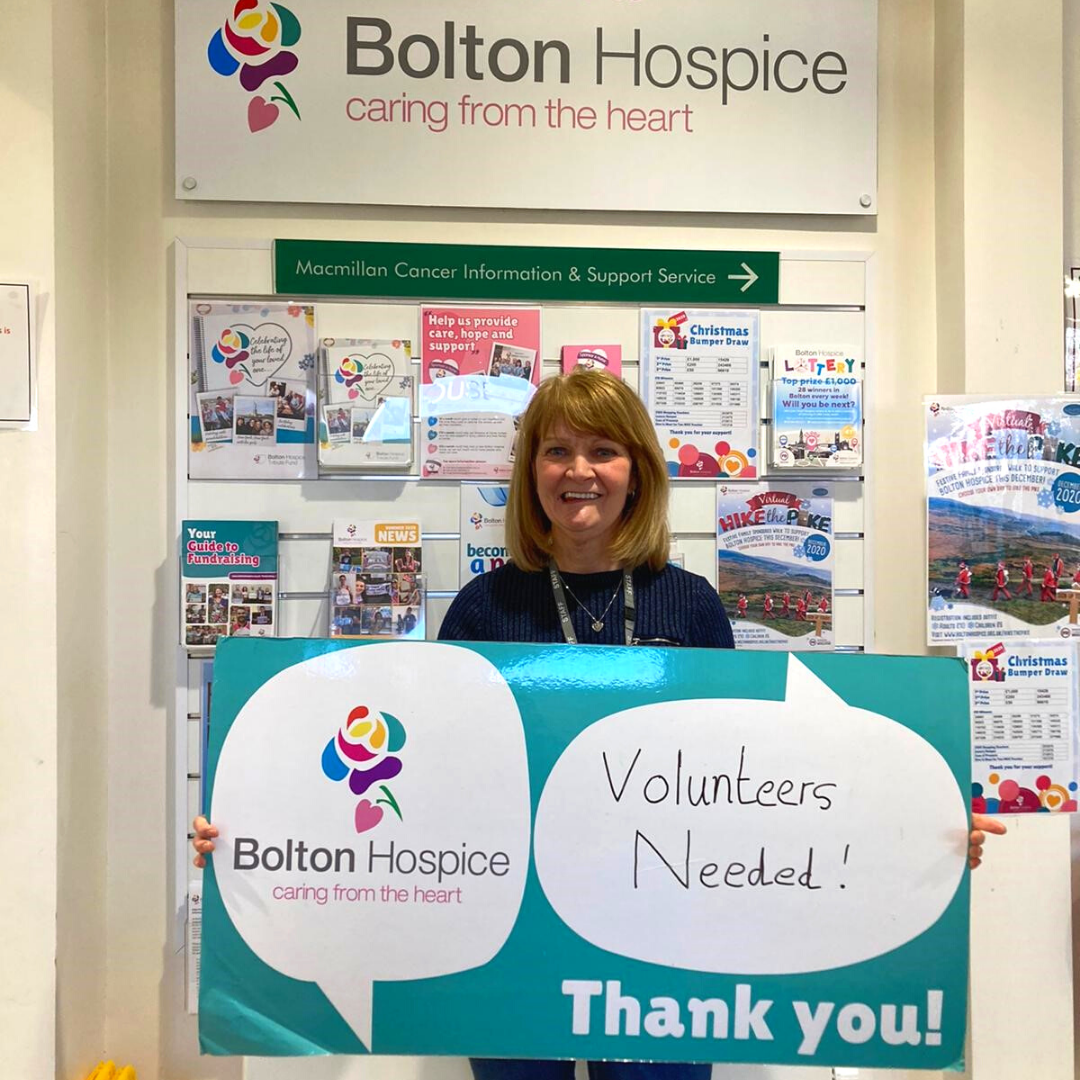 With our charity shops re-opening in April, we are in desperate need of volunteers to support our shops and we would love your help!
If you have a few spare hours a week and would like to get involved, we are looking for volunteers to help with our ebay online store and in our charity shops across Bolton.
You can apply now to volunteer at your local hospice shop or with our eBay sales here
Donating to Our Shops
To donate your unwanted items you can:
Take items to one of our charity shops during the current opening hours as above.
Arrange a collection by contacting us by email or on 01204 663 063.
Call to arrange your free home collection on 01204 663063 - please leave a voicemail and we will call you back if we are unable to answer!
We are always in need of good quality donations in all of our shops - clothing, home & kitchenware, jewellery, bric-a-brac, childrens' toys, nursery & baby items, shoes, bags, DVDs, CDs, books, furniture, electricals and fitness & leisure equipment. So please remember us when you are having a clear out by donating your unwanted items!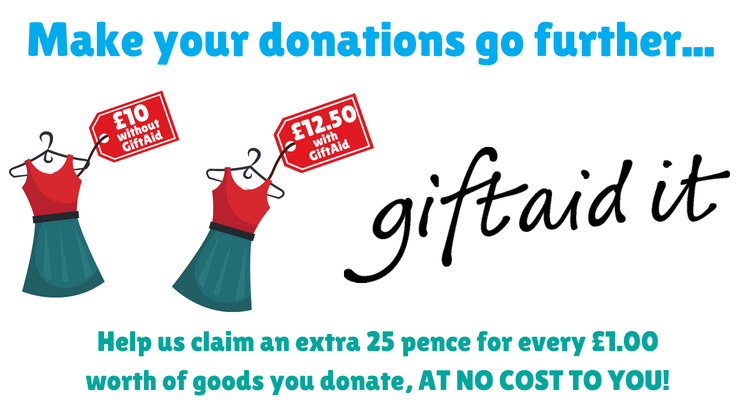 Did you know that if you are a UK tax payer, we can claim an extra 25% back from the government on your donations?!
Sign up as a Gift Aid donor and each time you donate any clothing or goods, we can generate an extra 25% more income once they sell! To become a Gift Aid donor, ask in any of our charity shops or speak to our collection team and someone will be more than happy to help! 
Information about donations
We are very grateful to all those who continue to donate to our shops but due to the restrictions imposed on waste and our duty of care in ensuring that waste is removed safely, we ask you to please make sure that all your donations of non-clothing items are in good condition, not broken and meet with Trading Standards compliance.
We are also unable to accept any soft-furnishing donations which do not have the original Fire Safety label attached (see below) such as sofas, armchairs, mattresses etc. as we are unable to re-sell these items.