Bolton Hospice announce a new specialist service the 'Wellbeing Hub' to support more local people with life-limiting illnesses
---
Bolton Hospice is redeveloping their day therapy service to help respond to the growing demand for specialist palliative care in our community.
The Wellbeing Hub will be a beautiful, calming space and alongside the current day therapy model will offer a flexible, drop-in service with access to new wellbeing and support sessions and specialist services so the hospice can help even more local people with life-limiting illnesses.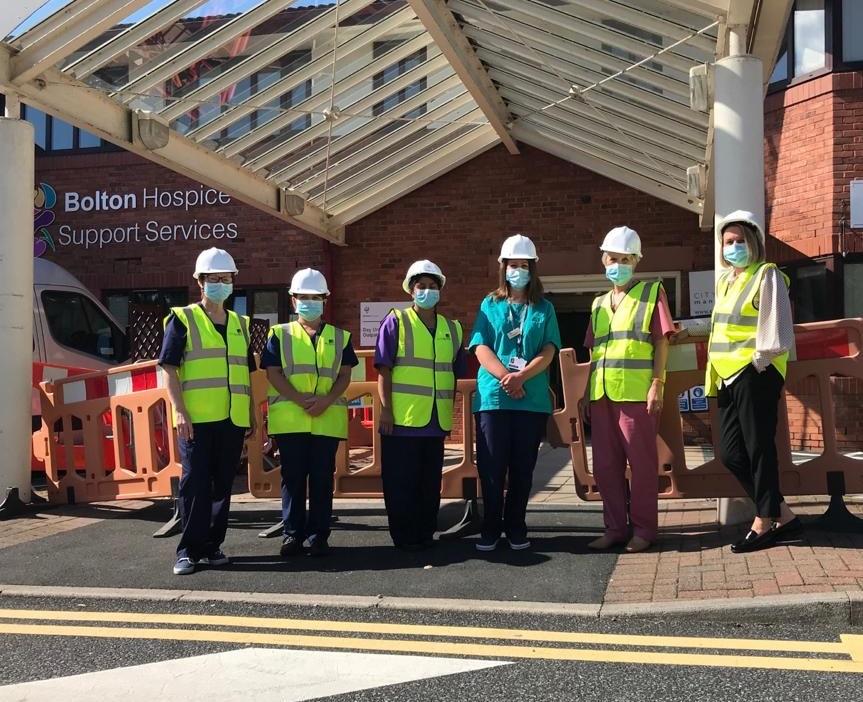 The Wellbeing Hub will offer wellbeing and support sessions and specialist services such as symptom management advice sessions, legal advice & benefits clinics, outpatient clinics, bereavement support sessions, wellbeing sessions such as mindfulness and yoga and a new relaxing café area.
The redevelopment has been funded by a generous legacy gift which was restricted to be used on capital projects. After planning the redevelopment in 2019, the work was due to commence in April 2020 but was delayed temporarily due to the Covid-19 restrictions, however with lockdown restrictions easing, the hospice is pleased to announce work has now commenced on the Bolton Hospice 'Wellbeing Hub' and it is set to open in autumn.
Dr Jennifer Klimiuk, Consultant in Palliative Medicine at Bolton Hospice who is leading on the project, said:
"We are delighted that work on the Wellbeing Hub has begun and are very much looking forward to launching the new service later this year. The Wellbeing Hub will allow the people of Bolton facing life-limiting illnesses to be supported in the best possible surroundings for many years to come and offer specialist services that suit individual needs and circumstances. With a more flexible, drop in service working alongside our traditional day therapy model, we'll have the capacity to meet the growing demand for hospice care in Bolton to ensure that we can continue to meet that demand in future and enable people to live well with life-limiting illness at home."
Chief Executive of the hospice, Dr (h.c) Leigh Vallance, said:
"The Wellbeing Hub will ensure that we are prepared to continue to provide the best possible care for local people in top class facilities. People are now living well with life-limiting illnesses for many years and we need to adapt our services to meet the needs of those individuals.
Palliative care is for people with a life-limiting illness such as MS, advanced lung disease, chronic obstructive pulmonary disease, as well as cancer and heart diseases.

Whether it's a drop in to discuss symptom management, attending a session on legal advice or signing up to a wellbeing session to help reduce stress or alleviate symptoms, the Wellbeing Hub will be an inclusive space to support all adults living with a life-limiting illness in Bolton."
Bolton hospice provides specialist palliative and end of life care to local people facing life-limiting illnesses in the hospice, and at home. They care for patients throughout their illness, helping to improve their wellbeing and quality of life.
The hospice's annual running costs are around £5 million, just over £1 million is received in government funding from NHS Bolton Clinical Commissioning Group, meaning they rely on the support of the local community to raise £4 million every year.