Our corporate supporters and partners are a vital part of helping us to keep offering care and support that so many Bolton families depend on during the most difficult of times and we would love to have you on board too!
We're a local charity with caring for local people at our heart. We want to build mutually beneficial partnerships with local businesses, big and small, so we can continue to provide our vital services for local people with life-limiting illnesses, and their families.
Benefits to your company:
As well as the knowledge that you are making a difference in your local community, there are many other benefits of supporting the hospice, including:
Employee engagement and motivation
Positive PR, raising your company's profile and enhancing your reputation
Meeting your company's Corporate Social Responsibility goals
Generating business through increased profile and networking opportunities
Get in touch
The fundraising team is here to offer advice and support your fundraising efforts, we'd love to hear from you - call us on 01204 663 065 or email us.
Ways to Support Bolton Hospice
---
Become a Patron
Our Patron Scheme is a collection of individuals, companies and groups who want to make a difference on their doorstep by helping to fund our vital care for local people. Enjoy a range of benefits by becoming a Patron and demonstrating your company's commitment to helping local people. Click here to find out more and see a list of our current patrons.
Carrs Pasties are patrons of Bolton Hospice:
"You don't realise how important an organisation Bolton Hospice is until you need them. We're the same as most families in Bolton who have benefited from their professionalism, compassion and quality of care. So as a Bolton family business, who better to choose as our main charity? As patrons we support them financially but we know that it's our time that's equally valued. And our pasties, obviously.
We're always happy to get stuck in, supporting events like the Midnight Memories Walk, flower shows and Christmas and summer fairs - we're also very pleased to see members of Team Carrs Pasties getting involved as well, fundraising and donating their time.
It's a pleasure to work with everyone at the hospice, we never feel pressured to become more involved, it's just very easy to do so naturally."
Events and Challenges
Attending our events can offer great networking and corporate entertaining opportunities. We have an annual Ladies Lunch and Golf Day, plus many other events throughout the year. Working towards a challenge together is a great way to help a team to bond – they could tackle on a triathlon, take on the UK's longest zip line or even jump out of a plane together!
Charity of the Year
Nominate Bolton Hospice as your company's charity of the year and we will support you in a wide range of activities throughout the year. We'll help by suggesting activities to take part in or run yourself, providing merchandise and recognition for your employees and enabling your staff to visit the hospice to see the difference your company is making.
Sponsorship Opportunities
We are always looking for sponsors for our fundraising events, publications and other activities.
Gifts in Kind
We always need donations of raffle and auction prizes but did you know you can also support us by donating your services to us – anything from graphic design to building contractors.
Play as you Earn
This is an easy way for staff to play our weekly lottery, as we deduct their membership fee directly from their salary. They could win £1,000 every Friday for just £1!
"We joined the 'Play as you earn scheme' about two years ago now. We all look forward to the Friday draw and it builds team morale and creates a bit of a buzz in the office. Any new members of staff we employ now ask to join in the draw without being prompted. It was very easy to set up and is taken direct from the staff wages once per month. It is good to know that the money is being spent in the town."
John Hynes, Managing Director, CopyPrint Services
Your Workplace & Us
We want to make it as easy as possible to make a difference and support local people with terminal and life limiting illnesses. Because of this we've created a new ways your workplace can help. Read more about how your workplace can get involved with the Bolton Hospice Lottery!
Bag it for Bolton Hospice
Simply ask your staff to fill a bag with clothes and bric-a-brac and we will collect your donated items on a pre-arranged date and sell them in one of our local charity shops. Read more about Bag It for Bolton Hospice.
Patron and Sponsors Stateside Foods are proud to support Bolton Hospice:
"Stateside Foods have chosen to support Bolton Hospice as our nominated charity for the last few years, as it is a local charity offering an invaluable service to the people of Bolton with life-limiting illnesses. As an employer of over 900 local people, it is a cause close to our hearts.

It is always an absolute pleasure working with the team at the hospice as they are so full of energy with exciting new ideas for fundraising events which benefit both our staff and the charity. We are proud sponsors of the Midnight Memories Walk and have been involved in many events during the time we have spent working with the hospice, from colour runs and sky-dives to ballroom dancing and themed party days in the office.

The events are always met with enthusiasm from our employees and are a great way to spend time together, meeting other like-minded people and businesses whilst having an awful lot of fun. We are so grateful to the dedicated staff and volunteers at Bolton Hospice for the work they do in our community and Stateside Foods will continue to support them in any way that we can."

Become a Bolton Hospice Patron!
---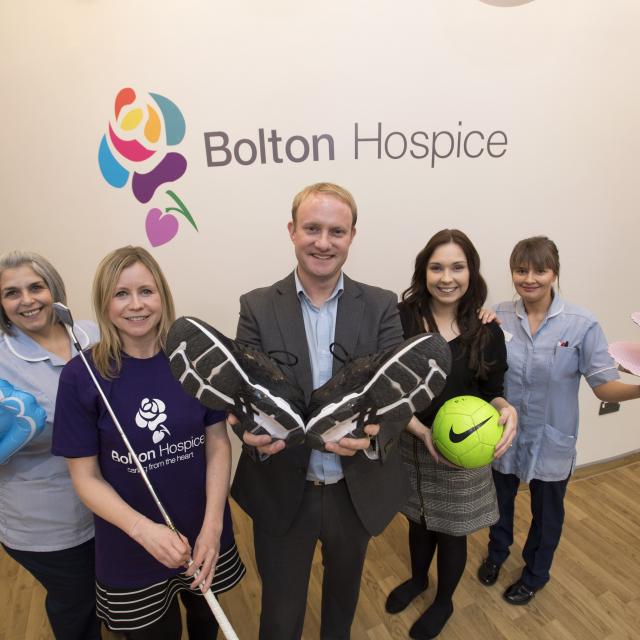 Our Patrons
Our patron scheme is a collection of individuals, companies and groups who want to make a difference on their doorstep by helping to fund our vital care for local people.
Read more