Shop Locations & Opening Hours
---
Our charity shops are located throughout Bolton, find your nearest and pop in to pick up a bargain!
DONATIONS UPDATE (13/10/2021)

Astley Bridge:

Donation times 10.00am - 3.30pm, Monday - Saturday.

The loading bay at the rear of the shop will shut at 3.30pm.

 

The following shops have a donation time of 10.00am - 3.45pm, Monday - Saturday:

Chorley Old Road

Tonge Moor Road

Little Lever

Furniture Plus                                    

Westhoughton

Horwich

Town Centre (Newport Street)

 

Currently not accepting donations

Occasionally our shops may have to STOP donations temporarily due to high volume, limited space and short staffed, we do apologise for this inconvenience and will resume accepting as soon as reasonably possible.

 

Covid-19 update:

Thank you for your kind donations to our shops, to help us manage our shops around Covid updates, we ask that all donations to our shops are in good clean saleable condition.  Our shops with changing rooms are currently closed.

If you have that special item that you wish to donate and feel will raise vital funds for Bolton Hospice, please label the item 'eBay' and drop off at our Tonge Moor Road Shop. Alternatively please call our Retail team on 01204 663063 to arrange for the item to be collected.

Unfortunately due to low customer demand we are unable to accept DVDs and CDs at this current time. By accepting these items we would incur a cost to the hospice. Thank you for your co-operation and support. If you would like to enquire further regarding what our shops are able to accept as donations please call 01204 663063.

 

Our Retail Team now have an exciting new Facebook group which you can join here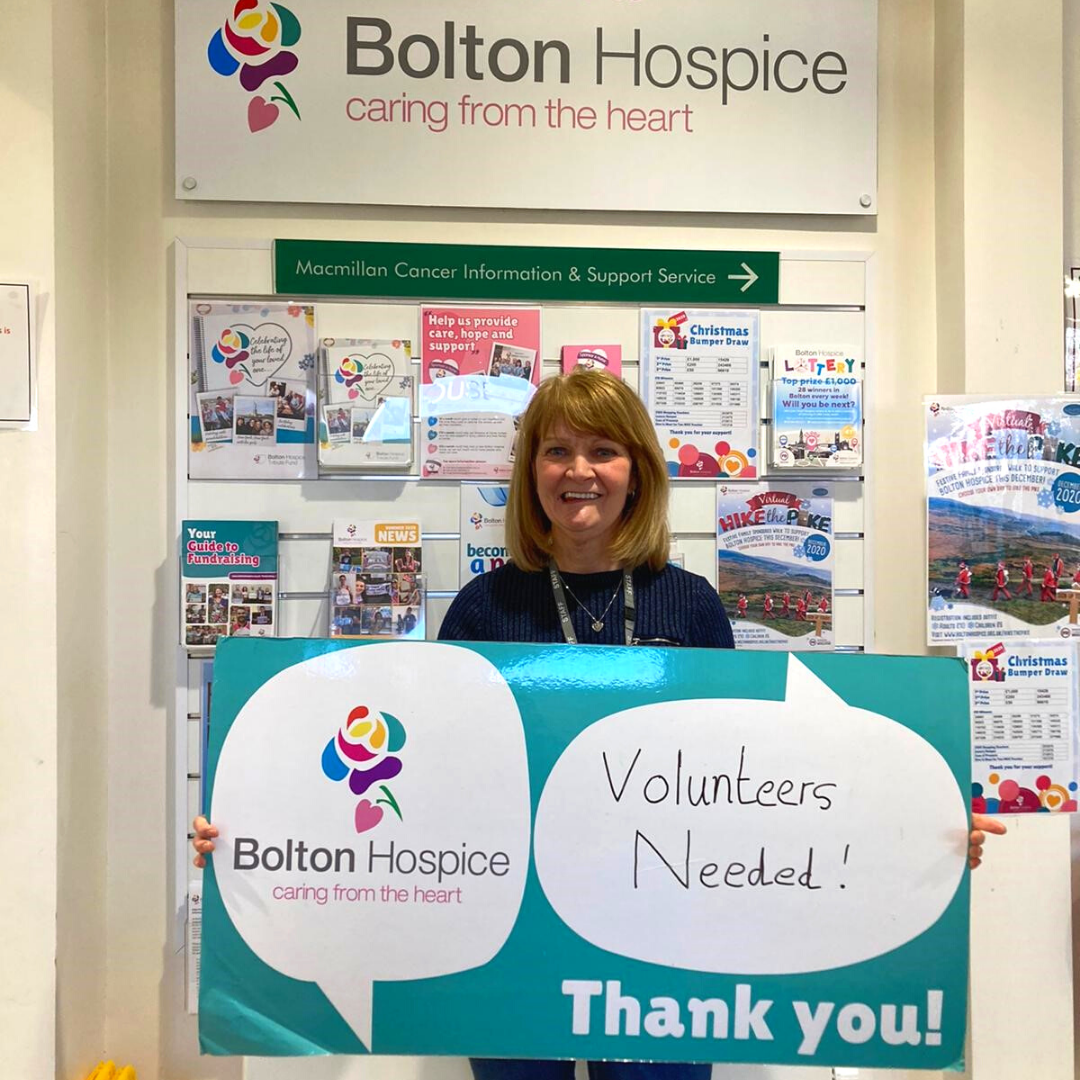 Now our charity shops have re-opened, we are in desperate need of volunteers to support our shops and we would love your help!
If you have a few spare hours a week and would like to get involved, we are looking for volunteers to help with our ebay online store and in our charity shops across Bolton.
You can apply now to volunteer at your local hospice shop or with our eBay sales here
Astley Bridge Charity Shop & The Old Bank Cafe
Hillview Road, BL1 8QQ
Tel: 01204 302 202 (shop) or 01204 770905 (cafe)
Shop: OPENING HOURS: Open 10am - 4pm, Monday to Saturday
Cafe: Open from 10am-3.30pm, Monday to Saturday and 11am-2pm Sunday
Bolton Town Centre Charity Shop
32 Newport Street, Bolton, BL1 1NB
Tel: 01204 663 069
OPENING HOURS: TBC
Bury Road Charity Shop
814 Bury Road, BL2 6PA
Tel: 01204 528 645
OPENING HOURS: 10am-4pm, Monday to Saturday
Chorley Old Road Charity Shop
276 Chorley Old Road, BL1 4JE
Tel: 01204 496 660
OPENING HOURS: Open 10am - 4pm, Monday to Saturday
Farnworth £1 Charity Shop
(Everything for sale is priced at £1.00 and under every day!)
42 Higher Market Street, BL4 9AJ
Tel: 01204 778 190
OPENING HOURS: Open 10am - 4pm, Monday to Friday & 10am - 1pm Saturday
We are currently not accepting donations at this shop
Furniture Plus
(Furniture, Electricals, Nursery, Mobility. Fitness & Leisure Equipment)
Unit 3 Morston Point, Manchester Road, BL2 1HB
Tel: 01204 663 069
Open 10am - 4pm, Monday to Sunday
Horwich Charity Shop
(Including Designer, Vintage & Bridal Wear)
55 Winter Hey Lane, Horwich, BL6 7NT
Tel: 01204 699 299
Open 10am - 4pm, Monday to Saturday
Hospice Gift Shop
(Cards, Gifts & Branded Merchandise)
Bolton Hospice Support Services Reception Area
Queens Park Street, Off Chorley New Road, BL1 4QT
Tel: 01204 663 055
TEMPORARILY CLOSED
Little Lever Charity Shop
110 High Street, Little Lever, BL3 1LR
Tel: 01204 861 074
OPENING HOURS: Open 10am - 4pm, Monday to Saturday
Tonge Moor Road Charity Shop
226 Tonge Moor Road, BL2 2HN
Tel: 01204 521 610 
OPENING HOURS: Open 10am - 4pm, Monday to Saturday
Westhoughton Charity Shop
5 Market Street, Westhoughton, BL5 3AH
Tel: 01942 810 090
OPENING HOURS: 10am-4pm, Monday to Friday & Saturday 10am-1pm