Sheridan Lifts give Bolton Hospice a boost!
---
Back in June this year, we contacted Manchester-based Sheridan Lifts as part of the review of our on-site lift maintenance (did you know we have 6 lifts on site across the hospice buildings and shops!)
It so happens that Bolton Hospice is very close to the hearts of the Managing Director, Tony Sheridan and his son, our Operations Director Daniel Sheridan, who sadly lost founder Stan Sheridan back in 1994 after he spent his last precious few days at the hospice. Daniel's mother-in-law, Janet, also sadly passed away at the hospice many years later. Bolton Hospice, to say the least, has a permanent place in the hearts of the Sheridan Family forever.
Sheridan Lifts is an independent lift company operating across the UK. The company was formed by my father in 1979 as a family-run company offering maintenance and repairs in the early years. Today we supply and install and maintain all types of lifts ranging from high-speed passenger lifts to domestic home lifts across the UK… Bolton Hospice had a pivotal part in the Sheridan family and influenced my decision to take what my Dad had created to the company it is today.

The hospice cared for my Dad in the weeks before he passed away in the home… although it was 27 years ago, I still remember the care and compassion the staff provided him and our family. I hope our involvement now and in the coming years is my way of saying thank you to the Hospice on behalf of my Dad and the whole family… As a company, I know all the family, friends and staff are delighted to be involved and helping Bolton Hospice where ever we can in the future.
- Tony Sheridan, CEO at Sheridan Lifts Limited
Chris Chadwick, Commercial Director attended the hospice site and carried out a survey to provide a proposal for the on-going maintenance. What we didn't know at this point was that Sheridan Lifts would be providing a contract for all 6 lifts on site free of charge! The team at Sheridan Lifts advised us that this was "a small token of appreciation for the hard work and dedication of an independent hospice providing the upmost care consistently for so many years."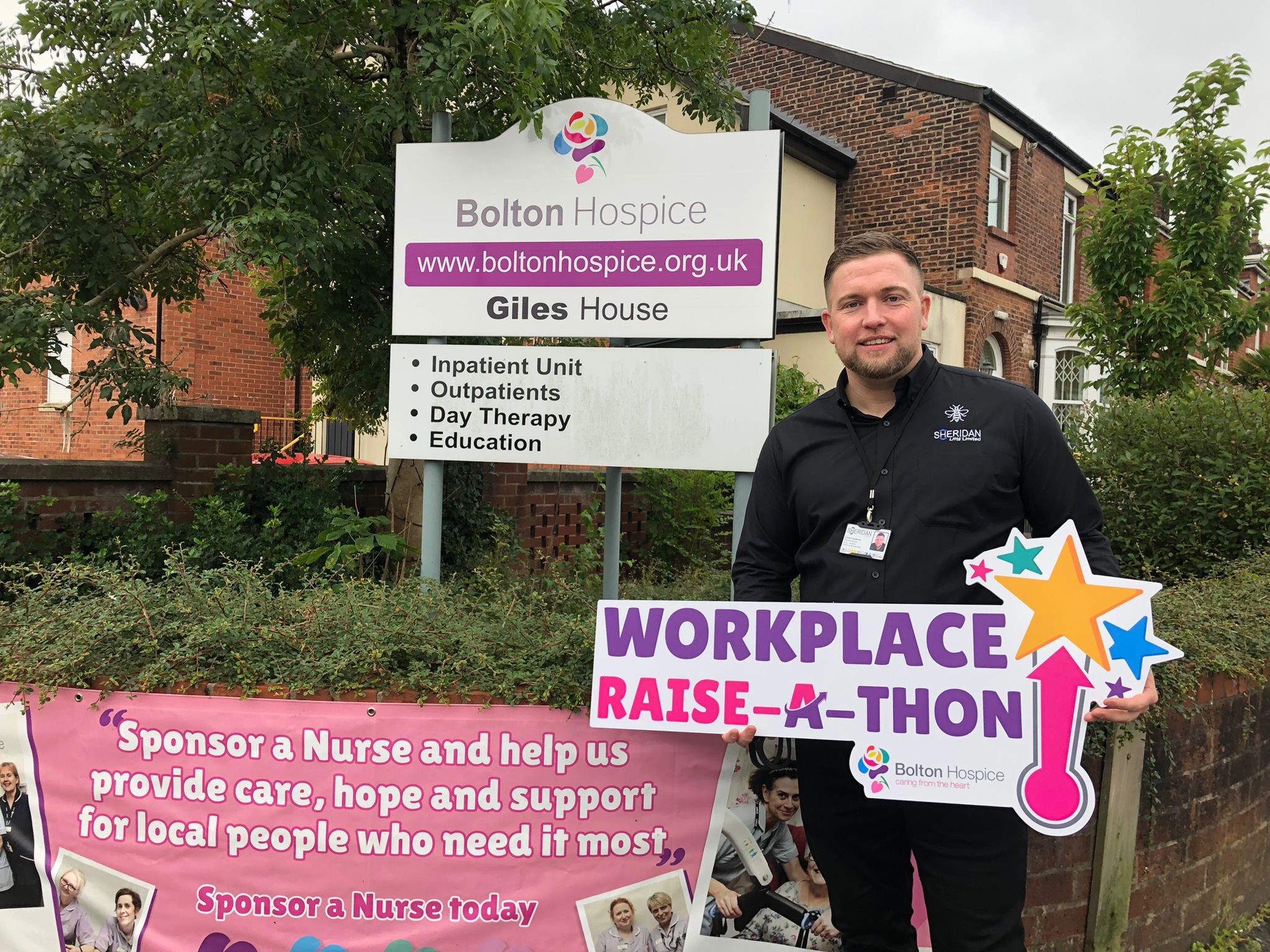 "In the time I've been here, I've secured prestigious contracts, worked on many projects providing social value, working with charities etc., but providing such good news to a Hospice so short on funding that requires maximum performance from local lift contractor, gave me a very fulfilling feeling. Its fair to say my heart was full to the brim after our meeting!

Working in this industry, providing services to healthcare providers, NHS and private hospitals across the UK with business-critical assets, this is a testament to Tony and Daniel as to how the Sheridan Family ethos are carried down each generation and passed on to even myself and other staff members. This token of appreciation will go a long way to providing stability to Bolton Hospice who I know will be forever grateful, with the money that would've been spent on our services, being distributed elsewhere to help others within the hospice facilities.

From a personal point of view, it emphasises the backing we have from the owners to let us run with a gesture like this and makes me feel fulfilled carrying out my duties as a Commercial Director. It's had a positive impact on my own wellbeing, carrying out this type of gesture pulls on my heartstrings to say the least! I am looking forward to working very closely with Bolton Hospice for a very long time to come."

- Chris Chadwick, Commercial Director at Sheridan Lifts
In return of their goodwill gesture, Sheridan Lifts have been given the honour of becoming an official "Platinum Patron" for the hospice, an honour given to any people or businesses that are looking to make a positive impact in the local community by ways and means of donations and social value.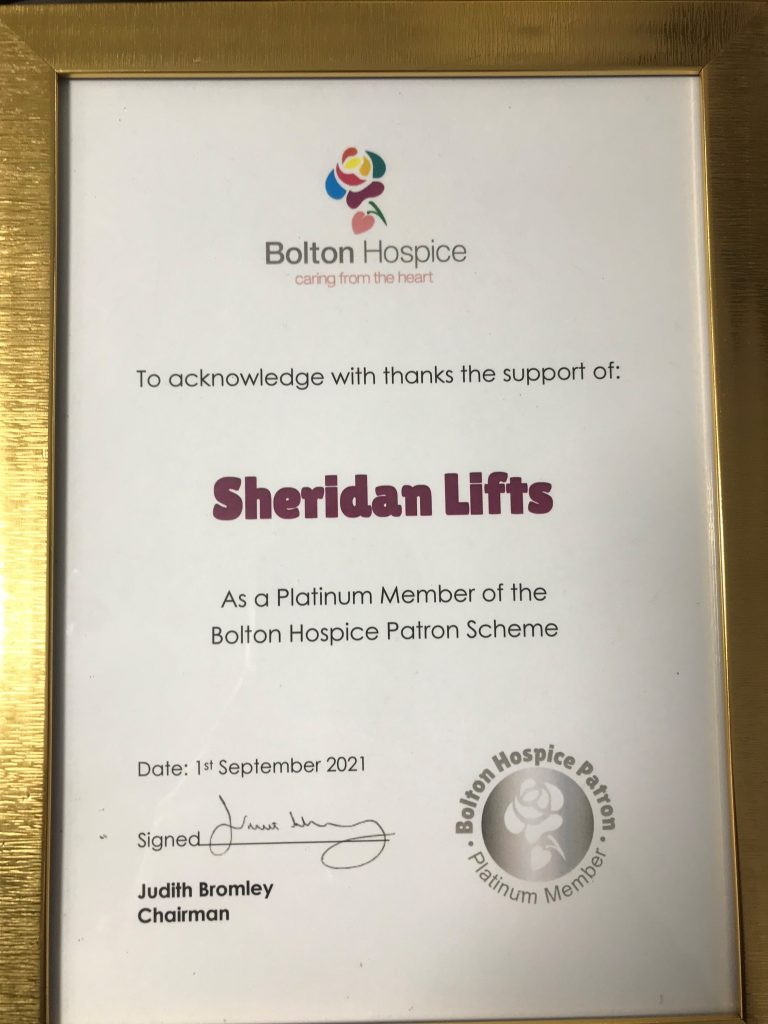 And to top it off, when when they found out about our Workplace Raise-A-Thon, they signed up straight away and made a very kind donation of £250 towards the appeal! Thank you to everyone at Sheridan Lifts for your generosity!