Family urge others to take the opportunity of hospice care
---
Elwyn Jones was diagnosed with cholangiocarcinoma, cancer of the bile duct, back in October 2020, and whilst his cancer was under control, he also suffered with pulmonary fibrosis and recurring deep vein thromboses which meant he was on several medications to manage the symptoms.
Elwyn's family were at crisis point last October, as their father hadn't eaten in weeks and was constantly vomiting and nauseated.  A visiting nurse mentioned the option of temporary hospice care, and so daughter Kerry decided to show her dad a video tour on the hospice's website, which she says made a big difference on his decision to be admitted. 
"It was important that my dad and the rest of the family were able to see the reality of what the hospice looked like, and were able to see that it wasn't another hospital. Within a week of Dad being admitted to the hospice, he was taking new medication for his nausea and was able to start eating again and was taking different pain medications. The staff and volunteers at the hospice were so wonderful with him, coming to sit by his bed every day, to talk to him directly. They even accommodated his wish for trifle and sponge pudding with custard for every meal, to help him get back into the routine of eating again!" (Kerry, daughter)
Elwyn spent three weeks in the hospice, and the family were then supported by the hospice's social work team and were signposted to other sources of support from home, such as physiotherapy.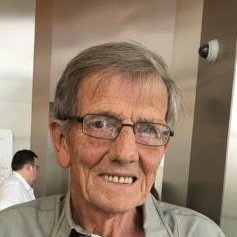 "I am so grateful to the help of all the staff at the hospice, who helped me and my family so much.
I spent hours in the beautiful hospice garden, where my family could push me round in a wheelchair. 
As soon as I left their care I wanted to do something to repay them, and as I have always been lucky, I decided to sign up to their weekly lottery.  I'm hoping I can win so that I can donate it back to the hospice, so they can help more people like me!"
Bolton Hospice has 16 private en-suite rooms which are comfortable and homely, and every room has direct access to their beautiful Garden of Tranquility.  Click here to find out more about the services on offer or call us on 01204 663066.